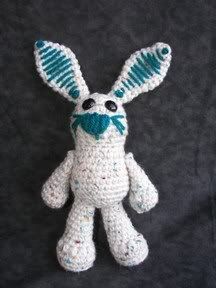 It has been a few days since I have updated my blog and I am so sorry! I have been super busy. Next week is the school's book fair and I was helping set up and then took a day off and did some errands and just tooled about town hitting thrift stores looking for elusive bargainy goodness :) I did end up finding some super fabric at a rummage sale. Gotta love a good rummage sale!!
I have uploaded Buster Bunny. He is my latest free pattern!
He can be found here....
http://www.craftydeb.com/free
Now on to what is around the corner...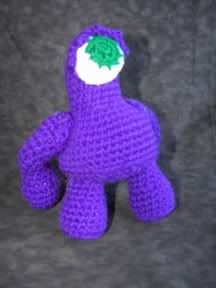 Can you Monoster?
Yes... the mono eyed monster.
There is 3 Eye Guy and now there is Monoster... He is out for testing right now and hopefully will be debuting on the site before the weekend is over!
I will certainly let you know when he is up and looking around the site..
I can say he will be in the Creatures & Monsters category here...
http://www.craftydeb.com/index?groupid=14
The first of the Smidgens are soon to reach the site as well. They are being tested as well! The first set of Smidgens are animals - cute pets - a dog, cat and rabbit... the next set are going to be robots and the third set will be monsters...!