For those that have made sock monkeys that sounds like a great title for a monster movie - sock monkeys the size of Godzilla squashing houses and cars as they come to town - reproducing faster than cockroaches.... but wait! A little lost girl is standing in the middle of a street with this army of sock monkeys about to demolish her when the love of sock monkeys pours out of her heart and all the sock monkeys magically shrink to cuddle size and she picks up the leader and gives him a hug... awwwww.... happy endings...
Well. I for one can not say the same about sock monkeys! It was Autumn, 2006. I was asked to create a sock monkey - and was sent yarn... I created said sock monkey and all along was not happy - It is hard for me to design something as shapeless as a sock monkey - not difficulty wise but I like shape and style - sock monkeys are kind ofwell, stuffed tubes sewn together... so I made said sock monkey and sent him in.... Well... Long story short turns out it wasn't quite what they were looking for and I needed to remake a monkey... They sent the monkey back to me (who soon afterwards became named something not very nice considering that when you sat him down his tail would stick up between his legs.... but we are not going to go there) anyhoo.... replacement monkey created and sent in - still shapeless by my standards but he was exactly what they were looking for - a sock monkeyesque monkey....
Well... It goes to print... pattern pulls all over the country are being ripped off their little pattern pull pads... someone in one of my Amigurumi yahoo groups slags me for making such a crappy shapeless pattern and that she could not get it to look like the one in the picture and so on and so forth... I take out sock monkey pattern - I had not even looked at the for nostalgia one that I had been given by my mother - and well... yup. wrong pattern... it was for the original monkey!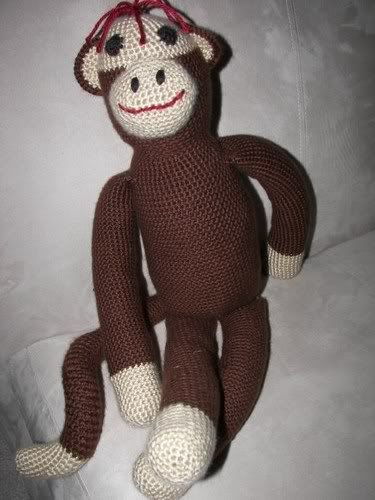 So It has been almost two years since that pattern was realeased... My website goes up and I email Caron after a few weeks to let them know it was up and running - and I get an email back the next day - asking for the right sock monkey pattern... It got edited and it is on its way back to the printer for a second printing of the pattern....
And I was given permission to post it up on the website to my surprise and total glee. I'm tickled that I can get it up on the site and release the right sock monkeyesque monkey - who was given the creative name *Sock Monkey Toy*
Now to work on their stuffed animal naming.... yeah. They all need names of one sort or another - and I have fallen prey to that - My Smidgens are not named - but hey! Smidgens itself is the name... and I'm really not sure if I am going to name each cow in the Bevy of Bovines... although I'm sure I will. Two out of three of the patterns are out for testing.... I still have time to think!
Til then... The Sock Monkey has returned...
You can download him here..
Sock Monkey Toy