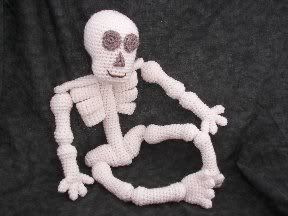 Just when you thought there was only one skeleton pattern online - I have created another one!
Knobby Knees Skeleton just debuted on
http://www.craftydeb.com
and he's a hit already! He is really going to give Realistic Bona Fide a run for his money that's for sure!! Both skeletons have their own distinct look. I can not choose which one I like better so please don't ask me!!
Knobby Knees Skeleton will be great decked out in embroidery for Day of the Dead! He has a sugar skull look to him that is yelling "Break out the embroidery floss or bright colored yarn!!"
He's 17" tall and quite a bit buffer than Realistic Bona Fide as well. It is like apples and oranges!
Come and check him out! He's in the
Creatures and Monsters
as well as in the
Halloween
!