Buster Bunny is hot off the design couch! He is already in the trusted arms of one of my testers and hopefully he will be unleashed to the world by the end of the weekend - just in time for him (or her) to be created and hidden until the Easter bunny leaves him (or her) in some soon to be spoiled kids!
Now my kids would much rather get an Easter robot, bent on world destruction as opposed to a mild mannered rodent with oversized ears but hey... boys will be boys!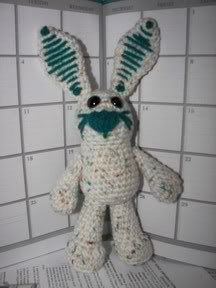 Of course I will let you know when he is available...
Also in the hands of my trusty team of testers is Monoster... the one eyed monster. He will be making his debut on the website sometime next week...
I have also begun to work on a new series of creatures where the placement of arms, legs and tails will be history! The Perfect Placement series are one of my next visions to make it to paper and yarn.
My husband has requested that in honor of Google indexing quite a few of the pages of my site I should create a Googlebot which I will - of course I can't use the name Google in it so I will be a bit creative with naming it as well.... but that might actually get put above the Perfect Placement series just to make him happy. Gotta make The Man happy ya know. He is after all the computer brains behind the operation and if he requests something, better snap to it!