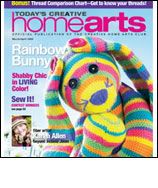 So I knew I was going to be on the cover of Creative Home Arts Magazine - which is sadly not available on the news stand... You have to have a subscription to get the magazine but it is only $12 a year so it's not too bad. I just subscribed because of my Rainbow Bunny being on the cover...
Over here on the left is the cover shot... so sweet!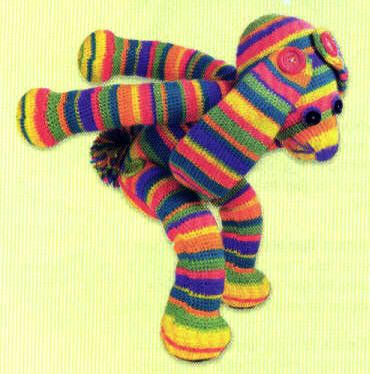 But who knew that this bunny should actually be on the next season of Top Model? Strike a pose!
How on earth did they get him in to those positions??? I can't find anywhere the size of this bunny but it is HUGE. We are talking like 30" long huge!
So here's one of the other shots of him in the magazine. I am beyond proud of this guy!
I just had to share my wanna be skier Rainbow Bunny hot off the presses! Even cooler - I was sent three copies of the magazine! When I subscribed I told the woman that I was the designer - she must have sent me a care package! Very cool indeed.