I never thought I would like quilting. When I used to think of quilts I would think of the stuffy boring grandma looking stuff that I remember when I was growing up - but man! I tell you what I like it! I like it a lot! I really do! I have only made a few so far but I really enjoy it. In fact.. I *should* be doing some quilting right now. I have a Craftster swap coming up and I want to include a little something something in that package - and it is due on Monday! But alas. I have a sick child at home - two days in a row now. Yesterday I sat on the couch next to him as we watched hours of Animal Planet's Most Extreme and a variety of History Channel shows on ancient worlds, battle tech and whatnot. He is a boy through and through... I do have something up my sleeve for the site though - no, I can not stop thinking about designing. It's what I do. It's what I am ... Let's just say it involves a dowel possibly... and some plastic canvas which I would normally say yuk to (I am not a fan of plastic canvas. No sir, I didn't like it) but it will be hidden - completely hidden and only used for its plasticky ridgidness. I might just use plastic canvas all around instead of a dowel - although the dowel might still come in handly....
Oh! the suspense! I think it's going to be a hit with Collin. Okay. I know it will be a hit with him. It might bring some smiles to others too.... I'll be getting on that while he's not at home. It will be very culvert. I don't want him to know what is up my sleeves!!
Oh! Quilts! Here is a picture of my most recent one!
I made this for my son's teacher's son. He has stage 4 Hodgkin's and is going to be having a bone marrow transplant soon.
I wanted to make something to make his stay in the clean room a bit warmer - and not so hospital like. He is a HUGE LSU fan and with the help of some online friends I was able to obtain a bit of LSU material which I transformed in to a not so stuffy quilt.
I used my embroidery machine to do the stippling - a football design that I poorly digitized with the help of Embird... I will digitize more stippling designs now that I have found the tutorial on how to do them properly! I know he liked the quilt a lot - a picture of him holding it up was posted on his blog.
I'm really happy with the end result - oh and yes that is fleece on the backside. I used fireside fleece to be extra warm and snug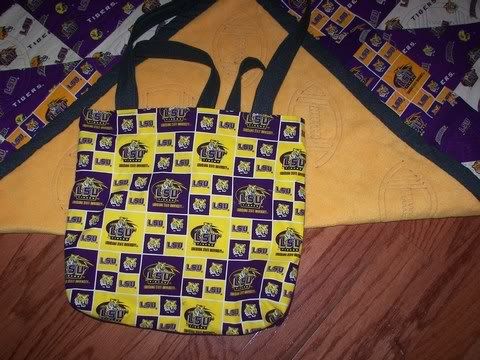 ly!