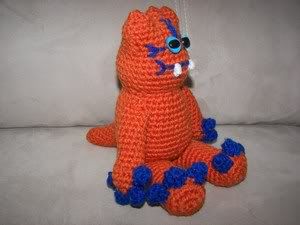 So I have to say It's notta cat okay?! lol.
Seriously. I created a monster and it does kind of remind me of a cat - a rather mutant one with an extra bit on the top of his head but I do love him. I did not intentionally make him in orange and blue being all yeah for Auburn University and all. I have to admit to a bit of total laziness... Here I am on the couch.. and I wanted to add some facial embroidery - well, the burgundy just did not pop.. there was no black to be seen so I spied at the end of the couch a skein of blue. sold! Blue embroidery it was! So sorry to any Auburn fans - it was not intentional just looked good together so I flew with it!
He will soon be out for testing and hopefully be up on the site soon.
And then the dinosaurs marched in.....
I am nearly completely done with a dinosaur. All I can say now is that he is pretty darn cool. He is just a stegasaurus but he is my stegasaurus. It isn't the first one I have designed though - and is loosely based on the previous one that was published in Creative Home Arts Magazine - although he is much smaller - more like half the size.
I did not just resize the pattern... I did start from scratch but when you have a style things just are very
reminiscent
no matter what you do to them. I'll post up pictures after I get all those spikes sewn on to his back and complete the second one. This one will have two different ways to finish it off so I get to do double duty with the hook and yarn...